This is a shot of my Konami Pegasus. The window lights (which I hand pixeled onto the battlestar), track surprisingly well.
This is a work in progress....part of a much more ambitious shot I plan.
Click on image to play...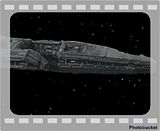 And this time, I improvised a semi-steadycam. Placed the Pegasus on top of a disinfectant spray can, and placed my videocamera on top of a stack of PS2 videogame cases. I then moved the stack around the Peggy. and the results seem to have turned out a helluva lot better.
I really am proud of this one, especially the way the window lights track, and the engines glow.
Done with Sony videocamera, Konami Pegasus 3 1/2 inch model, Adobe Photoshop and Image Ready.
I hope y'all like it. Smile
Respectfully,
Martok2112