Here is the original Micro-Hero version of Vision from the short lived "Avengers" cartoon, followed by my changes (Good & Evil).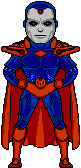 Here is a Robin I threw together using templates.
You may not remember (It's been so long since I posted it), but I also made a lot of made-up Kamen Riders.
Here is my latest.

and
here
is a link to all the rest.
I also have made-up Comicbook characters,
here
, and within that same link I have some more original characters, some DC and some Marvell charters like Antman that is a work in progress.
I didn't like the big mandible helmet of Hank Pym's Antman, so I made the 9 eyed mask version, but people pointed out that Ants don't have 9 eyes, so I made some more ideas.
>
0. Hank Pym as Antman
1. No helmet (or hair)
2. 9 eyes
3. Compound eyes
4. Compound eyes with V on forehead
5. Antenna
6. Antenna & Mandibles
6A. Antenna & Mandibles w/ nose visible.
Any comments good or bad are welcomed.